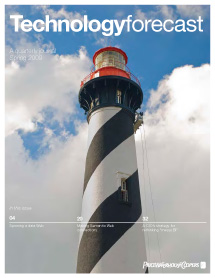 Major Report Signals the Emergence of Linked Data into the Enterprise
PricewaterhouseCoopers (PWC) has just published a major 58-pp report on linked data in the enterprise. The report features insightful interviews with many industry practitioners as well as PWC's own in-depth and thorough research. I think this report is a most significant event: it represents the first mainstream recognition of the potential importance of linked data and semantic Web technologies to the business of data interoperability within the enterprise.
This entire issue is uniformly excellent and well-timed. PWC has done a superb job of assembling the right topics and players. The report has three feature articles interspersed with four in-depth interviews. The target audience is the enterprise CIO with much useful explanation and background. Applications discussed range from standard business intelligence to energy and medicine.
The emphasis on the linked data aspect is a strong one. PWC puts twin emphases on ontologies and the enterprise perspective (naturally). This is a refreshing new perspective for the linked data community, which at times could be accused a bit of being myopic with regard to: 1) open data only; 2) instance records (RDF and no OWL, with little discussion of domain or concept ontologies); and 3) sometimes a disdain for the business perspective (as opposed to the academic).
PWC has done a great job of getting beyond some of the community's own prejudices in order to couch this in CIO and enterprise terms. This signals to me the transition from the lab to the marketplace, with all of its consequent challenges and advantages.
In short: Bravo! This is a very good piece and will, I think, put PWC ahead of the curve for some time to come.
I was very pleased to have the opportunity to review earlier drafts of this major report. After reading a couple of my recent papers on Shaky Semantics and the Advantages and Myths of RDF, with the latter cited in the piece, I had a chance to have a fruitful dialog with one of the report's editors, Alan Morrison, who is a manager in PWC's Center for Technology and Innovation (CTI). He kindly solicited my comments and incorporated some suggestions.
The report also lists 14 various semantic technology vendors and service providers. I'm pleased to note that PWC included our small Structured Dynamics firm as part of its listing. Other vendors listed include Cambridge Semantics, Collibra, Metatomix, Microsoft, OpenLink Software, Oracle, Semantic Discovery Systems, Talis, Thomson Reuters, TopQuadrant and Zepheira, with the selected service providers of Radar Networks and AdaptiveBlue.
This report is easy — but important — reading. I personally enjoyed the insights of Frank Chum of Chevron, a new name for me. I encourage all in the field to read and study the entire report closely. I think this report will be an important milestone for the semantic Web in the enterprise for quite some time to come.
After a brief sign-up, the 58-pp report is available for free download.
Schema.org Markup
headline:
PWC Dedicates Quarterly Technology Forecast to Linked Data
alternativeHeadline:
author:
image:
description:
Major Report Signals the Emergence of Linked Data into the Enterprise PricewaterhouseCoopers (PWC) has just published a major 58-pp report on linked data in the enterprise. The report features insightful interviews with many industry practitioners as well as PWC's own in-depth and thorough research. I think this report is a most significant event: it represents […]
articleBody:
see above
datePublished: