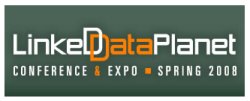 The Flood of 2008 Brings New Perspectives
I live in Coralville, Iowa, a sister community to Iowa City, home of the University of Iowa and the Hawkeyes. Iowa City is in eastern Iowa on I-80 about one hour west of the state's eastern border at the Mississippi River, and about 35 miles south of Cedar Rapids, home of one of the major mills for Quaker Oats. Iowa City is a very together and vibrant community of bucolic rolling hills and pretty vistas.
In between Iowa City and Cedar Rapids is my local commercial airport, the Eastern Iowa Airport, and Coralville Lake, which is an Army Corps of Engineers flood-control reservoir controlling the Iowa River that flows through Iowa City from the northwest on its way to the Mississippi. Just north of the Iowa River is the Cedar River, a major tributary to the Iowa River that flows through Cedar Rapids before joining the Iowa River southeast of our location near the Mississippi.
From the conclusion of winter we have been getting a lot of rain around here. I mean, a lot.
I am just one of the 450,000 or so residents in the broader area encompassing both of these Iowa hubs, but my experience may have some interest as I prepared for the upcoming LinkedData Planet conference in New York City. The kind of information needs posed by a natural disaster such as is now occurring with our 'Flood of 2008' point to, I think, a compelling use case for Linked Data.
Cedar Rapids First to be Hit
As the rains continued and the rivers rose, local residents discussed the previous large flood that occurred in 1993. That one caused much disruption and devastation. However, the general consensus was that we were unlikely to see a repeat of that 100-yr event. But unfortunately, the rains continued, and the last week saw multiple occasions of inches of rain within 24-hr periods.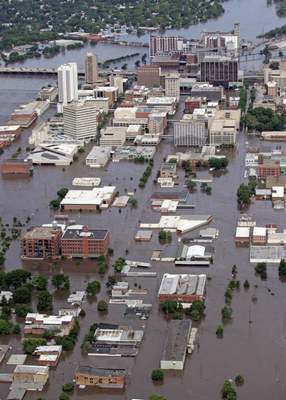 The first issue became apparent for the Cedar River.
By Wednesday, alarm began to set in, and the floodwaters were rising at unforecasted rates. The city worked furiously, especially right around Mercy Hospital downtown, but by Thursday the cause was lost and the hospital was completely abandoned.
Thursday also saw a major railway bridge, laden down with rock-filled rail cars to keep it from floating away, collapse, which then also became a dam catching floating trailers and other portable buildings.
Meanwhile, a major employer in that city, Quaker Oats, was flooding up to the middle of its second story. It is shown at lower right, underneath the aerial Cedar Rapids city view. You can see another major thoroughfare, the north-south transiting I-380, snaking around town and next to the Quaker production complex. All grain and important machinery has been lost in that complex.
The water peaked on Friday, and the Cedar River is now very slowly receding. However, as of today, Saturday, about 25,000 city residents have been evacuated and some 450 city blocks are still underwater. Early estimates for damage run to about $1 billion.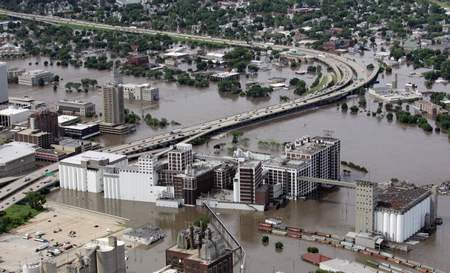 I-380 remains the only way to cross town and all other city bridges are flooded and closed.
Getting Ready for the Conference
Meanwhile at mid-week, concerned that the footprint of flooding was spreading, I finished up my materials for duplication early for the LinkedData Planet conference and headed to downtown Coralville to get my order in.
Locally, the Iowa River flow is controlled by the local Coralville Dam and was not on the same cycle as the Cedar River.
Volunteers were busy sandbagging behind the printing business and things were holding steady on Coralville's commercial strip. I delivered my materials and had some interactions with the business as the job was run, but basically things were calm though steady precautions were underway. The rising river was forecasted to peak in about 5-7 days as rains from the 3,000 square mile drainage continued to flow into the reservoir.
However, two events occurred late Thursday that greatly complicated matters and shifted the eye of concern to Iowa City.
Iowa City and Coralville are Next
The first event was the overflow of the Coralville Dam spillway. That had been forecasted, but its degree was not. The spillway had only breached one time before, and that was during the 1993 flood. (That earlier event also exposed a rich bed of Devonian fossils).
When it occurred in 1993, the water inflow into the river peaked at about 28,000 cfm. (The standard dam bypass had been running about half that prior to the spillway being breached, shown after breach on the left hand side of the image to the left.) As of today, the estimate is that the rate will rise to 44,000 cfm, and perhaps will actually have a 2-3 ft crest overflowing the spillway.
The second event that occurred was that a railroad embankment on the spur Clear Creek on the Coralville strip breached. Overnight the area flooded rapidly.
When I awoke Friday morning, I tried to make my way downtown to pick up my printed materials. Unfortunately, the printer's shop was now marooned. I could see it and there was only about 50 yds of water separating it from me, but power was out and emergency personnel were preventing any access. By late afternoon, that breach also joined up with more direct overflow from the Iowa River to create the totally flooded commercial strip shown in the picture to the lower right. (The print shop is under water at the lower third on the left; I assume with my materials floating inside.)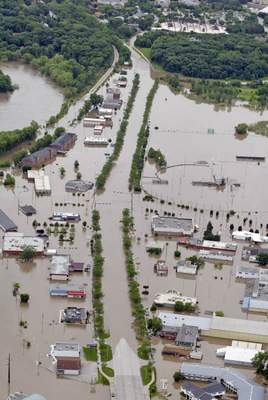 By this point, navigating around the area was quite difficult. Most of the major bridges were now closing and the breach had caught many by surprise, so that most were at work or school for a standard business day.
As closings began and people tried to save businesses or homes, traffic got totally snarled. With some scrambling and friendly assistance from another local printer, I was able to get my job completed just as that facility announced its closing.
Meanwhile, elsewhere in the community, real mobilization was occurring in earnest.
One great aspect of Iowans is their community support and spirit. The alarming rise of river levels has literally energized the entire community, not to mention the presence of the National Guard and Coast Guard. There are dozens of locations with major sandbag operations underway. My family and the university students, not to mention thousands of others, have been bagging and stacking. Much effort occurred through the entire night to Saturday morning.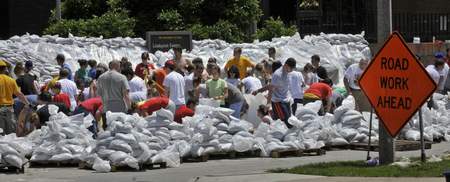 The amazing thing is that supplies and sand seem to run out well in advance of the volunteers. Local officials have continuously extended bagging efforts beyond what they anticipated (in fact, never shutting down) and all of the local TV stations have been providing nearly constant news and video coverage.
Of course, the eventual effort in clean-up and recovery will also far exceed the current frantic efforts to hold off Mother Nature today. I'm sure we will see the same can-do spirit continue until normalcy is restored.
Dealing with the Mundane
Travel is a nightmare. My flight for tomorrow (Sunday) is normally a 20-min drive from my house. However, since the reservoir is squarely in between, all bridges have been closed. If the one bridge over I-80 in Iowa City closes, our community will be completely and totally cut off from the rest of the state.
As it is, the official detour to the airport now requires a 2-hr trip west to Des Moines, an hour north, and then 2-hrs back, for about a 5-hr one way detour. (I found and discovered a shorter "secret" back road approach today, but it may also not remain open either.)
For all citizens, potable and drinking water is becoming a concern. As the University of Iowa struggles mightily with flooding, it is losing power and its major computing center and main library are at risk. A book brigade yesterday extricated all of the books from the first floor of the library. All university summer camps and current summer session classes have been cancelled. All university personnel, including my professor wife, have been ordered to secure labs and offices and depart the campus. Efforts are now focused on keeping power and operations to the University hospital, which fortunately is itself not apparently at risk of flooding.
The effects of water, travel and power go beyond the direct flooding, but of course those with homes and businesses under water are experiencing the worst and feeling much stress. Fortunately, direct injuries and loss of life has been minimal so far. It is a real mess around here.
A '500-Year Flood'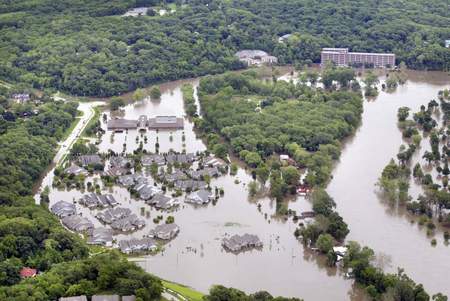 The discussion is now that Iowa City is experiencing a '500-yr flood' that opens new questions and new uncertainties.
Because the Iowa River cycle is later, our area is not projected to see the flood water peak until Tuesday or so. Though we have already seen major damage (as of mid-day Saturday), the crest is at least two days away. The Iowa River, presently at 30.5 feet, is expected to reach 33 feet to 34 feet, well in excess of the 25-foot flood stage.
The only bridge connecting the east and west sides of downtown Iowa City is likely to close soon. The river surged 2 feet in just 12 hours on Friday. The further projected 2-3 foot of rise is unprecedented. Major stress will be placed on the current temporary levees and sandbag banks.
We have clearly not seen the peak nor the worst. The floodwaters will also take much time to recede and recovery may be long. In 1993, for example, one of Iowa City's major thoroughfares was closed for 82 days. This year the effects will likely be much, much worse.
When not working at the lines or directly viewing the flooding, there is a bit of a surreal quality. Up until the past half hour or so, the skies were clear, the birds were chirping, and the waters were rising all around. I grew up in Southern California and have directly experienced earthquakes, and have been trying for years to try to come to grips with tornadoes. But, creeping flooding with the occasional breach just has such a weird feeling.
And, now, as I write and the afternoon unfolds, the sky has again darkened with more severe thunderstorms forming and on the way.
The Role of Linked Data
Circumstances like this demand the ability to assemble relevant information for the topic at hand. In this case, one wants information for floods and flooding, bridge and road closings, curfews, routes, airport openings and flight delays, weather forecasts, stream and river rise forecasts, hotel room availabilities, traffic delays, closings and official announcements, photo galleries to give perspective, and the like for an area encompassing eastern Iowa and municipalities including Iowa City, Solon, Cedar Rapids and Coralville.
Of course, better information and massive human effort can not themselves hold off Mother Nature when she is angry. But, better information can enable us to mobilize and use resources more efficiently and with less loss of limb and property.
In short, that is what Linked Data is all about. It represents techniques and capabilities that exist today to appropriately tag and annotate content to make it "smarter", to put all of the relevant information in context and on demand.
So, while we have the techniques available, we do not yet have widespread application. Linked Data is not yet of help to Iowa City.
The question of doing this is not one of technology, but of business models and incentives.
So, that is what the LinkedData Planet conference is all about: Making connections that matter, and doing so simply and in context. Assuming I'm able to wend my way to dryer ground and get on the plane, stop by Zitgist's booth at the Roosevelt Hotel on June 17-18. I'd love to chat and shake a dry hand!
Schema.org Markup
headline:
LinkedData Planet and the WWW (Wet, Wild World)
alternativeHeadline:
author:
image:
description:
The Flood of 2008 Brings New Perspectives I live in Coralville, Iowa, a sister community to Iowa City, home of the University of Iowa and the Hawkeyes. Iowa City is in eastern Iowa on I-80 about one hour west of the state's eastern border at the Mississippi River, and about 35 miles south of Cedar […]
articleBody:
see above
datePublished: