Pandora's Music Genome Project is Another Example of the Pragmatic Semantic Web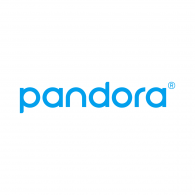 An initiative now gaining buzz — and one that doesn't once mention the semantic Web — is showing how metadata characterization can bring new discovery and benefits to music listening. Pandora, which bills itself as your personal DJ, has a fantastic online music listening experience organized through a series of random shuffle-play "channels," including those you can design and share yourself. The system presently contains more than 400,000 songs from more than 20,000 artists, most contemporary.
The Music Genome Project is the basis for the system's recommendations. It was started by a group of musicians in 2000 with the aim of assembling the most comprehensive database of music analysis yet created. According to its Web site:
Together we set out to capture the essence of music at the most fundamental level. We ended up assembling literally hundreds of musical attributes or "genes" into a very large Music Genome. Taken together these genes capture the unique and magical musical identity of a song – everything from melody, harmony and rhythm, to instrumentation, orchestration, arrangement, lyrics, and of course the rich world of singing and vocal harmony. It's not about what a band looks like, or what genre they supposedly belong to, or about who buys their records – it's about what each individual song sounds like.
The basic Pandora service is shown in this screen shot: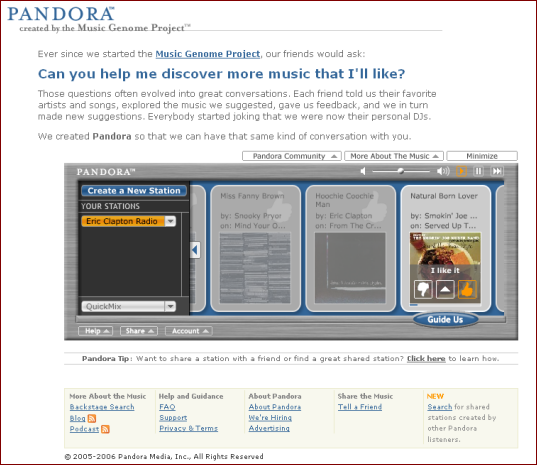 I've created my own radio "channel" emphasizing Eric Clapton and specifically his blues interests with other blues artists (Clapton + Friends). The more you listen and refine, the better the shuffle play delightfully surprises. Pandora offers both free, persistent channels (with advertising) and (nominal) paid channels without advertising. (Refinement is not strictly necessary, but it overcomes the licensing limitation that prevents one from skipping too many songs in a given hour.)
Here's the email that Pandora creates to send to friends (plus the specific reference to my Clapton channel) that you are welcomed to try out:
Hi,

I wanted to let you know about Pandora, a free internet radio site based on the Music Genome Project. It helps you discover and listen to great music. Here's the link if you'd like to check it out:

Just tell Pandora the name of your favorite song or artist, and it will create a radio station that plays songs with similar musical attributes.

Here's a link to my profile page. From this page, you can listen to my stations and check out new music I've found on Pandora:
BTW, I'd like to thank a posting by Michael Daconta for turning me on to the Pandora service.
Schema.org Markup
headline:
The Semantic Web Rocks!
alternativeHeadline:
author:
image:
description:
Pandora's Music Genome Project is Another Example of the Pragmatic Semantic Web An initiative now gaining buzz — and one that doesn't once mention the semantic Web — is showing how metadata characterization can bring new discovery and benefits to music listening. Pandora, which bills itself as your personal DJ, has a fantastic online music […]
articleBody:
see above
datePublished: