Innovative Winnipeg Project Powered by SD Technology
This past Friday the Peg project was unveiled for the first time to an enthusiastic welcome at the Winnipeg Poverty Reduction Partnership Forum. A beta version of its website (www.mypeg.ca) was also launched. Peg is an innovative Web portal for community indicators of well-being for the city of Winnipeg, Manitoba. First conceived in 2002, with much subsequent refinement, its strong consortium of members from the local community and recent backing have now allowed it to be shared with the public.
Since early this year, Structured Dynamics has been the lead technical contractor on the project. But Peg is about people and involvement, not technology. Peg is an effort of community and perspectives and information and stories, all designed to coalesce how to make Winnipeg a better community moving forward. So, while the technology underlying the site is innovative (yes, we're proud 😉 ), more so is the effort and vision of the community making it happen. Though just a beta release, the current site and the commitment behind it points to some exciting future developments.
Here is the main screen for Peg (clicking on any of the screen captures below will take you directly to the relevant part of the site):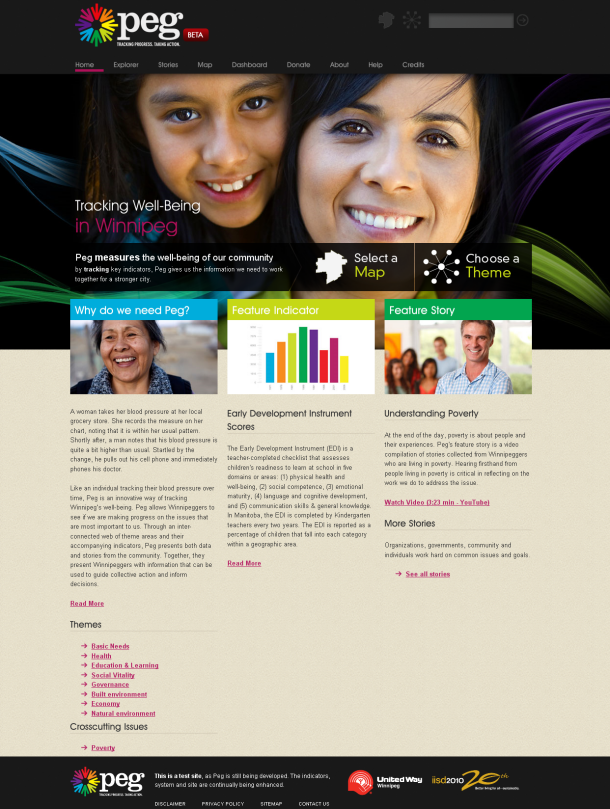 A Community Perspective Backed by Dynamic Functionality
Winnipeg's community indicator system (CIS) is organized around themes, cross-cutting issues that bridge across themes, and indicators and supporting data to track and measure the city's well-being. Peg's major themes, agreed upon after extensive community consultation, are: basic needs; health; education & learning; social vitality; governance; built environment; economy; and natural environment. In this first beta release, the emphasis has been on the cross-cutting issue of poverty and some of the indicators to track it.
The perspective being brought to bear on these questions of well-being is comprehensive and embracing. Data and demographics and quantitative indicators of well-being are matched with stories and narratives from affected parties, videos, and a variety of display and visualization options. Much of the supporting data is organized by the 236 neighborhoods in Winnipeg, or broader community areas, with comparative baselines to city, province and nation. The information is both hard and soft, and presented in engaging, exciting and dynamic ways. Using the best of current social media, Peg is meant to be a virtual meeting place and town hall for the public to share and engage one another.
This beta is but a first expression of Peg's longer-term vision, yet already has the backbone to take on these labors. A concept explorer allows the public to explore and navigate through the entire information space; much information is mapped and presented in locational relevance; narratives and stories and videos are linked contextually to topics and issues; and many, many dashboards can be created and displayed for showing trends and comparing neighborhoods, and letting the data speak visually:
The current beta is but a start. The Peg project, in continued consultation with stakeholders, will be developing further indicators for each of its eight major themes, providing information about past and current trends, and expanding into additional cross-cutting issues. Daily, the site will see an increase in richness and relevance.
Project Participants
Peg has been spearheaded by the United Way of Winnipeg and the International Institute for Sustainable Development (IISD), also based in Winnipeg, with the partnership of the Province of Manitoba, the City of Winnipeg, Health in Common, and a cross section of community interests and members across the city. Peg is a non-profit effort, and is embarking on a new three-year work plan to oversee further funding and expansion.
Peg is governed by a Steering Committee with budgetary and strategic responsibilities. Peg also works with an Engagement Group — a broad-based group of Winnipeggers — that serves as a testing ground for ideas, direction and policy. The site provides credits for the various entities involved and responsible for the effort.
IISD has provided overall project management for the current effort. As personal thanks, we'd especially like to recognize Connie Walker, Laszlo Pinter, Christa Rust and Charles Thrift. Tactica, also of Winnipeg, has been the lead graphics and site designer for Peg. SD has worked closely with them to ensure a smooth launch, and they've done a great job. Thanks to all!
Now, This is Semantics Done Right
Of course, for more on the project, go directly to the Peg site or those of its other major participants and contributors. But, in our role as implementers of the behind-the-scenes wizardry powering the site, we would be remiss if we did not mention a couple of technical items.
As lead technical developer, SD was responsible for all data access, management, development and visualization software for the site. The site was developed in Drupal, with Virtuoso as the RDF data store and Solr for faceted site search. As part of its Open Semantic Framework, based on the Citizen Dan local government appliance, SD contributed and extended major open source software for Peg. These contributions included the structWSF Web services framework, conStruct modules for linking the system into Drupal, and the Flex-based semantic Components including the explorer, map, story viewer, browse/search, dashboard, workbench and back office widgets. We also developed the adaptive ontology driving the entire site, based on the Peg framework vocabulary already hashed out by the community participants.
During the course of the project we developed an entirely new workbench capability for creating new, persistent dashboards. We extended the sRelationBrowser semantic component with complete and flexible theming and styling; virtually all aspects of nodes, edges and behavior have now been exposed for tailoring, including fonts, colors and use of images. We enhanced the irON format to make it easier for project participants to submit spreadsheet datasets to the site for new indicator data. We will be migrating these advances to our existing open source software over the coming weeks. Check Fred Giasson's blog for release details; he has also begun a series on the technology details.
But, in my opinion, what is most remarkable about all of this is that these bloody details are completely hidden from the user. Though real geeks can get RDF and linked data via export options, for the standard user they simple interact and experience the site. No triples are shoved in their face, no technology screams out for attention, and ne'er any URIs are to be found. The thing simply works, all the while being flexible, contextual, attractive and fun.
And that, folks, I submit, is semantics done right!
Schema.org Markup
headline:
Peg Community Indicator System Unveiled to Enthusiasm
alternativeHeadline:
Innovative Winnipeg Project Powered by SD Technology
author:
image:
http://www.mkbergman.com/wp-content/themes/ai3v2/images/peg_180.png
description:
Peg is an innovative Web portal for community indicators of well-being for the city of Winnipeg, Manitoba. First conceived in 2002, with much subsequent refinement, its strong consortium of members from the local community and recent backing have now allowed it to be shared with the public
articleBody:
see above
datePublished: