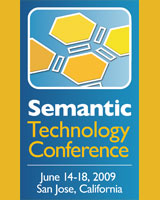 First Unveiling of the Bibliographic Knowledge Network, New Product Announcement from SD
Well, it was just about six months ago that Fred Giasson and I announced our new company, Structured Dynamics. After a relatively quiet period and much laboring at the workbench, I will be presenting our new efforts at the 2009 Semantic Technology Conference, June 14th – 18th, at the Fairmont Hotel, in San Jose, California.
I will be speaking on, "BKN: Building Communities through Knowledge, and Knowledge Through Communities," on Tuesday, June 16, during the 11:45 AM – 12:45 PM last morning session.
BKN — the Bibliographic Knowledge Network — is a major, two-year, NSF-funded project jointly sponsored by the University of California, Berkeley, Harvard University, Stanford University, and the American Institute of Mathematics, with broad private sector and community support [1]. Though initially nucleating around mathematics and statistics, each node in the network is a Web site or dataset distribution hub dedicated to a specific topic or field of knowledge. The project itself is developing a suite of tools and infrastructure based on semantic technologies for professionals, students or researchers to form new communities, and — with a single-click — to share and leverage expertise.
Besides presenting the BKN efforts for this first time, which includes an innovative and open Web services framework for collaboration, I will also be using the occasion of my talk to announce our new semantic Web and linked data RDF framework for content management systems. We're pretty excited about these advances.
This is my first time at this premier semantic Web event, which has been steadily growing and now exceeds 1000 attendees. The agenda is most impressive; it will be difficult to decide which of the many excellent talks to choose from for each session.
If you will be at the meeting and would like to get together, drop me a note and we can schedule a time. I hope to see you there!
---
Schema.org Markup
headline:
Structured Dynamics Presenting at SemTech '09
alternativeHeadline:
author:
image:
description:
First Unveiling of the Bibliographic Knowledge Network, New Product Announcement from SD Well, it was just about six months ago that Fred Giasson and I announced our new company, Structured Dynamics. After a relatively quiet period and much laboring at the workbench, I will be presenting our new efforts at the 2009 Semantic Technology Conference, […]
articleBody:
see above
datePublished: