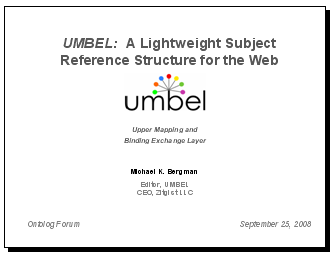 Part of Kick-off Series on Emerging Ontologies
I was greatly pleased to present a talk on UMBEL before the Ontolog Forum as part of their kick-off series on emerging ontologies. The September 25 podcast and slides are now available online.
ONTOLOG (a.k.a. 'Ontolog Forum') is an open, international, virtual community of practice devoted to advancing the field of ontology, ontological engineering and semantic technology, and advocating their adoption into mainstream applications and international standards. It has a great reputation and about 520 active members from 30 countries.
Our panel session kicked-off the Forum's new "Emerging Ontology Showcase" mini-series. This series is being co-championed by Ken Baclawski (Northeastern University) and Mike Bennett (Hypercube Ltd., UK). The criteria for invitation to the showcase include being new or a new release within the past 6 months or so; an emphasis on an ontology itself, not data or tools; and a focus on schema versus instances or facts or assertions. Efforts intended to produce or create standards are of particular interest.
Please Listen In
After Ken's introduction, the podcast begins with Mike Bennett speaking on, "The EDM Council Semantics Repository: Building Global Consensus for the Financial Services Industry." This is an important initiative and in keeping with other financial reporting and XBRL-related topics of late. His slides are also online.
My talk, "UMBEL: A Lightweight Subject Reference Structure for the Web," begins about 35% of the way into the podcast, accompanied by about 30 slides. The audio is a bit spotty for the first two slides until I switched from a speaker to a microphone. My presentation is about 30 min followed by joint Q & A with Mike for another 30 min or so.
Full proceedings — including agenda, abstracts, slides, audio recording and the transcript of the live chat session — may be found on the session page of the Forum wiki; see http://ontolog.cim3.net/cgi-bin/wiki.pl?ConferenceCall_2008_09_25.
The Forum has been doing this for some time and has a nice system worked out for coordinating later viewing of presentations synchronized with the audio.
This presentation was part of a frequent Thursday speaker's session sponsored by the Forum.
Schema.org Markup
headline:
UMBEL Presentation at Ontolog Forum
alternativeHeadline:
author:
image:
description:
Part of Kick-off Series on Emerging Ontologies I was greatly pleased to present a talk on UMBEL before the Ontolog Forum as part of their kick-off series on emerging ontologies. The September 25 podcast and slides are now available online. ONTOLOG (a.k.a. 'Ontolog Forum') is an open, international, virtual community of practice devoted to advancing […]
articleBody:
see above
datePublished: