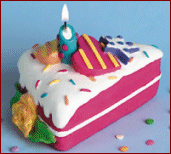 An annual birthday is time to take some stock, and to do some tuning up. This week it was my blog's turn. A subsequent post will report on that (painful) experience. I gave a general spit polish to the ol' site to say thanks! and Happy 2nd Birthday!
The actual birth date of this site is May 27, 2005. In the two ensuing years, I have posted 208 articles, most quite long. Over the past 12 months, I posted 100 articles, unveiled my SweetSearch Google custom search engine for the semantic Web, and unveiled and grew the Sweet Tools listing of 500+ semantic Web and related tools listing. I added multiple language translation (and then removed it when Google announced its own service!) and began testing Google ads.
My site popularity has continued to climb; AI3 is now ranked about 45,000 on Technorati (it was about 100,000 on the site's first birthday), pretty good for a site mostly focused on technical issues of Internet content and the structured Web, and I get good commentary both on my blog and around the Web.
Thanks, everyone, for your kind words and support!
So, all in all, this blog's toddling year was a good one. Now that we're walking, perhaps some running and jumping in the coming year will be in order!
Schema.org Markup
headline:
Happy Second Birthday, AI3!
alternativeHeadline:
author:
image:
description:
An annual birthday is time to take some stock, and to do some tuning up. This week it was my blog's turn. A subsequent post will report on that (painful) experience. I gave a general spit polish to the ol' site to say thanks! and Happy 2nd Birthday! The actual birth date of this site […]
articleBody:
see above
datePublished: