A remarkable 7-min video demonstration from a recent TED talk by Blaise Agüera y Arcas has just been posted online. If any of you have wondered what benefits a linked Web of data might bring, this is the talk to see. Simply stated, all I can say is, Wow!: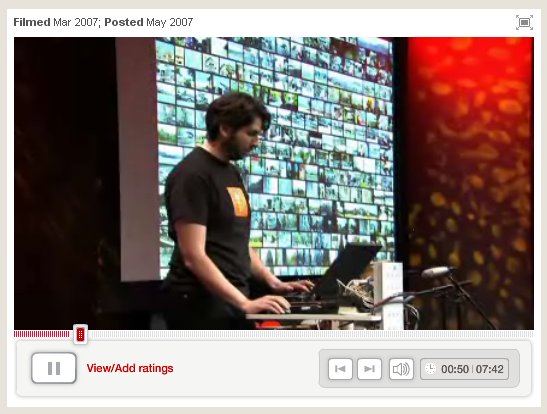 The actual TED talk link for Blaise's presentation is found here.
The first remarkable piece of technology in this demo is from Seadragon, founded by Blaise and acquired last year by Microsoft. This part of the technology allows visual information to be smoothly browsed, panned or zoomed regardless of the amount of data involved or the bandwidth of the network. Watch as you zoom from all the pages of an entire book to an individual letter! This part of the technology has obvious applications to maps, but frankly, to any large data space.
The second portion of the technology, and perhaps an even more remarkable part of the demo, marries this part with a means to aggregate multiple images into an interactive, immersive, 3-D whole. This technology, originally developed at the University of Washington, is called Photosynth.
The Photosynth software takes a large collection of photos of a place or an object, analyzes them for similarities, and then displays the photos in a reconstructed three-dimensional space, showing you how each one relates to the next. This software is capable of assembling static photos — in the case of the demo, hundreds of photos of the Notre Dame cathedral publicly available on Flickr — into a synergy of zoomable, navigable, interactive and "immersive" spaces.
This example shows how individual data "objects" sharing a similar tag can be aggregated and put to a use as a new "whole" that is much, much greater than the sum of its parts. It is this kind of emergent quality that gives the promise of the structured Web and the semantic Web its power: much more can be done with linked data than with individual documents.
To better understand the amazing technology behind all of this magic, I recommend the geeks in the crowd check out this earlier and longer (37 min) video on Blaise and his work at Microsoft Live Labs; it is found at the Channel 9 MSDN site.
Thanks to Christian Long and his think:lab blog for first posting about this TED talk.
Schema.org Markup
headline:
Semantically-linked Interactive Imagery: Wow! The Emergent Web in Action
alternativeHeadline:
author:
image:
description:
A remarkable 7-min video demonstration from a recent TED talk by Blaise Agüera y Arcas has just been posted online. If any of you have wondered what benefits a linked Web of data might bring, this is the talk to see. Simply stated, all I can say is, Wow!: The actual TED talk link for […]
articleBody:
see above
datePublished: