When we first released Cognonto toward the end of 2016, we provided a starting Web site that had all of the basics, but no frills. In looking at the competition in the artificial intelligence and semantic technology space, we decided a snazzier entry page was warranted. So, we are pleased to announce our new entry page: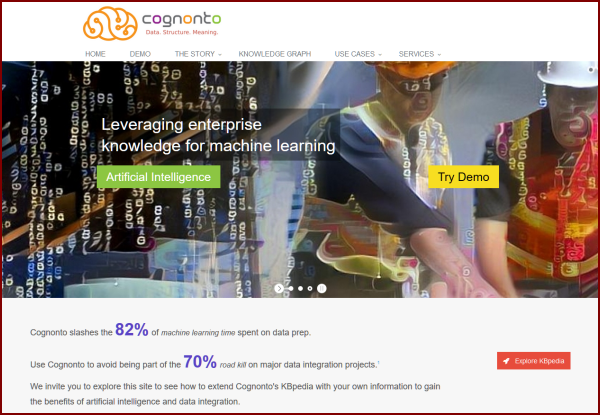 We also had fun playing around with using recent AI programs to generate images based on various input visual styles. We used AI imagery and our own Cognonto logo as the way to generate some of these.
As I said to a colleague, maybe it was time for us to try to "run with the cool kids." We hope you like it. We made some other site tweaks as well along the way to releasing this new entry page.
Let me know if you have any comments (good or bad) on this site re-design. Meanwhile, it's time to get back to the substance . . . .
Schema.org Markup
headline:
New Cognonto Entry Page
alternativeHeadline:
author:
image:
description:
Cognonto announces a new entry page for its Web site.
articleBody:
see above
datePublished: